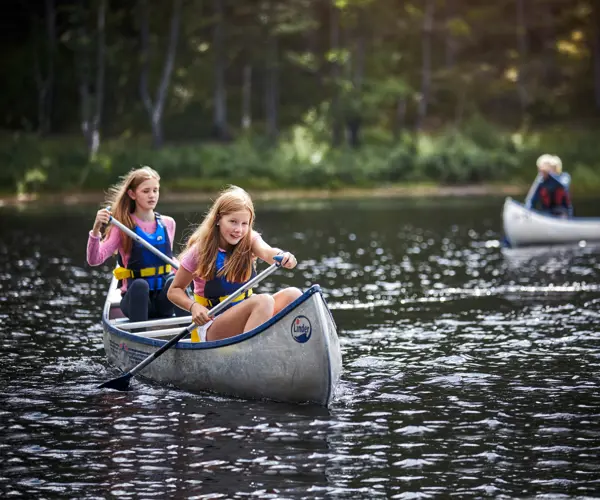 Open from the last weekend in April
CLOSED for the season

With the Nissan River, and the lakes it flows through, there are large areas of water around Isaberg. There are both still and flowing waters that suit both the beginner and the more experienced paddlers. We offer canoe/kayak/boat rental with full transport service. Our resort is the perfect place to place your camp.
Great to get out on the lake
A full or half day canoe trip can be a real highlight! There are many nice picnic areas around the waterways to stop for a lunch or coffee.

If you want to take a shorter trip, it is just as fun to rent a kayak or why not a Stand Up Paddleboard so-called SUP, or our popular paddle boats.
A canoe is for 2-3 people, kayak is available for 1- and 2-person, rowing boat is for 4 people, paddle boat is for 4 people, and SUP is for 1 person.
Drop-in
Most of our rental is on drop-in. You come to the reception when you want to start and see what is available. We note the time when you start and you pay when you come back. Identification is required.
For pre-booking you need to rent at least 4 objects (canoe, kayak or boat) and full day price.
Paddle boats, sit-on-top and SUP can not be pre-booked.
For all rentals, 18-years age limit applies.
| | | | |
| --- | --- | --- | --- |
|   | Per hour | Per day | Per week |
| Canoe | SEK 120 | SEK 490 | SEK 2300 |
| Kayak Single | SEK 120 | SEK 490 | SEK 2300 |
| Kajak Double | SEK 120 | SEK 490 | SEK 2300 |
| Rowing boat | SEK 120 | SEK 490 | SEK 2300 |
| SUP | SEK 120 | - | - |
| Paddle boat | SEK 200 | - | - |
| Sit-on-top kayak | SEK 200 | - | - |
Extra carts, seats and storage barrels are avaiable for rent and lifejackets are of course included in the rental.
We also offer rental with transport service. We arrange transport of both canoes and kayaks and your party. We offer transport between Norra Unnaryd in the north and Skeppshult in the south. We can transport 8 canoes at a time and upp to 8 persons. If you need more canoes transported the price will dubble. Contact the reception for information on prices. Not offered during week 28-31.
Transportation prices 2023 (not offered during week 28-31)

| | |
| --- | --- |
| Destination | Price |
| Norra Unnaryd | SEK 900 |
| Alabo | SEK 900 |
| Gislaved | SEK 900 |
| Rönnegården | SEK 1000 |
| Villstad | SEK 1100 |
| Smålandsstenar | SEK 1250 |
| Skeppshult | SEK 1400 |
Canoe and live a wonderful outdoor life on and along Nissan, one of Småland's beautiful rivers with a magnificent nature around it. Start and end where you want along the trail, or make a real long journey and paddle the entire trail which is 86 km long. Get a memorable and soothing experience in a beautiful environment rich in wildlife and vegetation. Here you can meet the wild like deer and moose grazing along the river.
Along Nissan there are nine rest areas where resting and overnight stays can take place if you have a canoe check.
Each rest area includes wind shelters, wood storage, barbecue facilities, garbage can and toilet.
You can buy your canoe checks from the reception before you start your tour.
Price canoe checks:
Adult 50 SEK/check
Child (up to 12 years) 25 SEK/check
Map 20 SEK
The leisure administration is responsible for the supervision of the canoe trail, while the landowners themselves are responsible for supervising their own rest area.
For more information about the River Nissan, visit Kanotled Nissan.
Helpful tips when paddling
Please keep the following in mind when paddling:

* Always wear a life jacket
* Travel according to your own ability.
* Never drink alcohol while paddling.
* Fill enough water before you start. There is no water to refill during the tour.
* There are no electrical outlets at the rest areas, so it is good to bring a PowerBank for phone charging.
* Even waterproof phones sink and are difficult to find if you drop them in the water. It is good to use a waterproof case.
* Is is good to use waterproof barrels / bags for packing.
* It is also good to have a hacksaw/a purning saw and an axe.
* If you rent a canoe wagon, please tie it to the canoe.
* Keep a distance from the wildlife, show respect.
* Light a fire only in a designated place. Firewood is available at the rest area, you are not allowed to cut down trees. If you have lit a fire - extinguish it thoroughly with water.
* Use a tent only at the rest area, next to the windshelter and not on building land, pastures or plantations.
* Take care of nature, do not leave garbage.
* Dogs are allowed in nature, but during the period 1 March - 20 August it is not allowed to run loose in the forest and land.
* Fishing is prohibited between Norra Unnaryd and Öreryd and between Båraryd and Skeppshult on the canoe trail. Fishing licenses valid between Öreryd and Båraryd can be purchased at the reception or at ifiske.se.