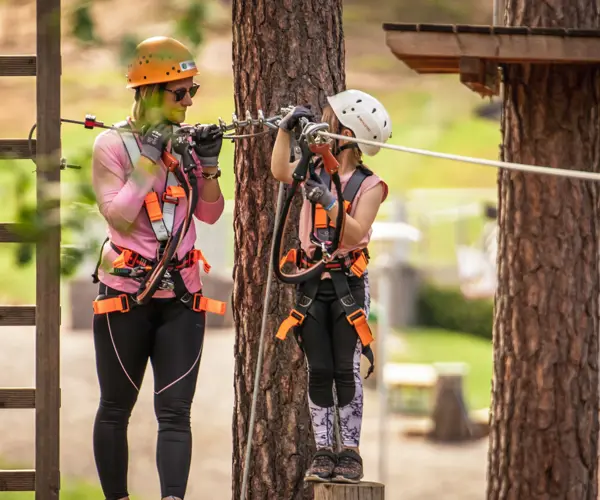 Saftey
Taking part in the Tree Top Adventure at Isaberg is safe. The courses are constructed and built by experts and follows the regulations and is approved by TÜV Süd in Germany. The courses are tested and checked every day.
The gear is well tested and approved according the European mountaineering regulations. Before start, every guest gets a safety instruction by one of our trained guides. The guides will also follow you through the courses and help and assist you along the way if needed.
Children 6-11 years must climb together with an adult (with ticket) keeping watch over the children in the courses. Max 2 children per adult.
Smaller children are also very welcome to watch and also play in the adventure play ground next to the park. 
Children under the age of 18 years climbing alone must have the approval of an adult/parent and a signature in the Terms of Participation. 

Friends and family not climbing are welcome to join anyway, watch, support and have fun from the ground. There is a BBQ site and seatings available in the park.
Please read the Terms of Participation before start.
Print those out, sign them and bring them with you when you get here. That will make things go easier and quicker on spot.