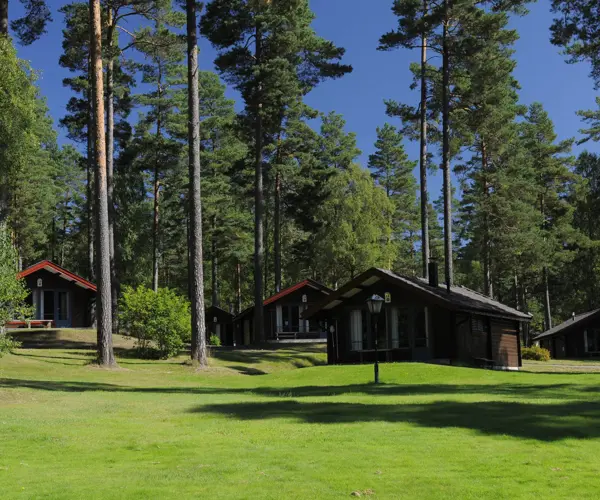 Ekorren
The cabin has two bedrooms with one bunk-bed per room and a sofa-bed in the livingroom (1 adult or 2 smaller children). The top beds are 80 cm wide. One of the lower beds is 90 cm wide and the other lower bed is 120 cm wide.
In the living room you have except the sofa-bed also a tv, a fireplace and a dining area for 4 persons.
The kitchen has an oven, hotplates, microwave and refrigerator (no freezer). The kitchen also includs pottery, cutlery, glasses, pots, frying pan, toaster, coffee maker and kettle.
Toilet and shower in the cabin. Drying cabinet in all cabins.
Outdoor furniture on the terrace during the summer.
This type of cabin includes four cabins that are suitable for disabled persons.
Pets are only allowed in some of the Ekorren cabins. When making a reservation, please notify us if pets will be staying in the cabin. An additional fee of 250 SEK will be charged.
36 sqm
Two bedrooms with bunk beds and one sofa-bed
Small kitchen with oven and microwave oven
Bathroom with shower
Fireplace
Pets allowed in some cottages, must be stated when booking
Good to know before check-in
Here is some practical information. Welcome, by the way!
Check in
You have access to your accomodation from 15.00 on the day of arrival. Feel free to print out and fill in our registration form in advance, only applies to our foreign cottage guests. This will make the check-in faster.
Cleaning
Guests must clean and tidy their cabin before checking out. A cleaning service is available on request. Please contact reception for prices and information. If you order final cleaning the check out will be no later than 10.00.
The cleaning service must be booked no later than 11.00 two days before departure. Your cabin will be checked after departure. If our cleaning staff find that the cleaning does not meet our requirements, we will charge a cleaning fee.
Check out
Cabin guests must check out by 11.00 on the departure date or 10.00 if you have ordered final cleaning.