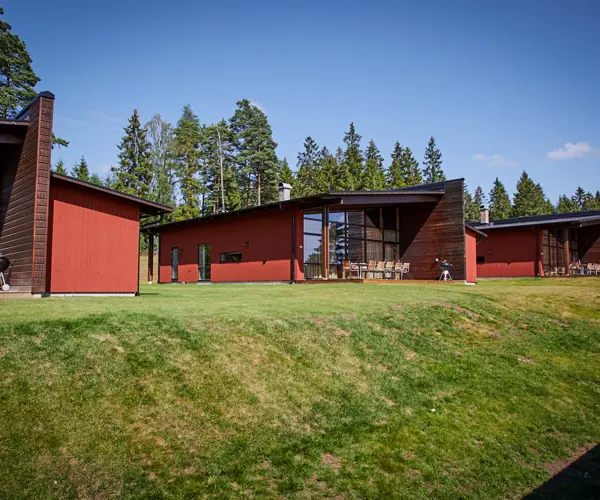 Älgen
Our new lodges are an experience in their own right. A rough-hewn timber wall runs the full length of the lodge, creating a wonderful atmosphere.
The living room with its large, stone hearth and views towards the summit of Isaberg, provides generous space for socialising.
The cabin has 12 beds in 4 bedrooms (2 rooms have double beds, 1 room has 1 bunk bed and 1 room has 2 bunk beds) and a sleeping loft with 2 single beds. All beds are 90 cm wide (double beds 2 x 90c m).
Fully equipped kitchen with oven, induction cooker, microwave, dishwasher, fridge and freezer. The kitchen also includs pottery, cutlery, glasses, pots, frying pan, toaster, coffee maker and kettle.
3 bathrooms with shower and a sauna are also available in the cabin. Drying cabinet in all cabins.
Beautiful furniture, a wall-mounted TV and hifi system all make your stay extra special!
All Älgen have free WiFi.
There are electric car charges by the Älgen cabins. Download the app Rexolution Charge or visit the website charge.rexel.se to create an account and charge your car. Payment is made by debit card via the app/website. 
157 sqm
4 bedrooms and a loft
Fully equipped kitchen
Sauna
3 bathrooms
Fireplace
Pets not allowed
Good to know before check-in
Here is some practical information. Welcome, by the way!
Check in
You have access to your accomodation from 15.00 on the day of arrival. Feel free to print out and fill in our registration form in advance, only applies to our foreign cottage guests. This will make the check-in faster.
Cleaning
Guests must clean and tidy their cabin before checking out. A cleaning service is available on request. Please contact reception for prices and information. If you order final cleaning the check out will be no later than 10.00.
The cleaning service must be booked no later than 11.00 two days before departure. Your cabin will be checked after departure. If our cleaning staff find that the cleaning does not meet our requirements, we will charge a cleaning fee.
Check out
Cabin guests must check out by 11.00 on the departure date or 10.00 if you have ordered final cleaning.