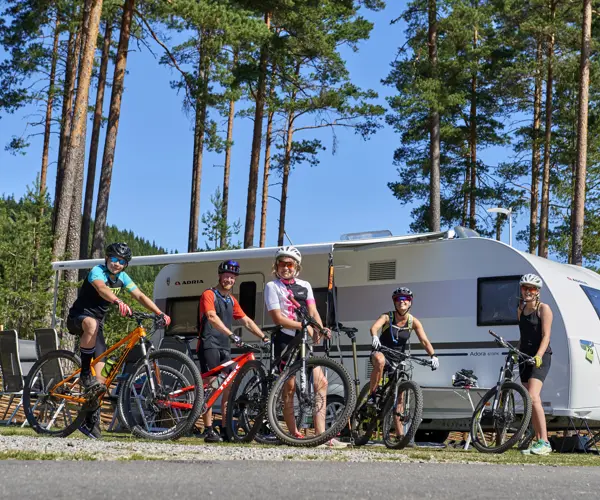 Camping site
Year-round open 4-star campsite located at the foot of the mountain. Restaurant, several playgrounds, barbecue areas, beach and a full range of activities are all close to the camp site.
4-star camping site, open all year round
Tha campsite has 84 spots with electrical outlets and cable TV.
We have different types of spots:
* Spot with electricity 10m (deep) x 10m (wide)
* Spot with electricity 10m (deep) x 10m (wide) with water and drain
* Spot with electricity 8m (deep) x 10m (wide)
* Spot with electricity 8m (deep) x 8m (wide)
In wintertime, please note that it is not walking distance to the ski resort where the ski shop, the pick up for ski pass and the beginners area are located. To get to the ski area you take the car, approx. 5 min.
Service facility
Newly built service facility with toilet, shower, washer and dryer, drying cabinet, self-catering kitchen and sauna.
Our small service facilitety has toilets, showers, drying cabinets adn shower for dogs.
You have the possibility to exchange/store freeze packs. The kitchen in the service building has a freezer for this, or talk to the reception and they will help you.
Spots for motor home parking
During the summer (May-October) there are also 33 motorhome spots. Note that the spots by chair lift (no. 106-112) have a lot of bicycle traffic close by. Especially on days when the lift is open for lift-mounted cycling. The places at the foot of Norrbacken have a more quiet location (see map below). The motorhome spots are only for motorhomes due to safety apects, as the pitches are more narrow than the spots on the campsite.
It is not allowed to use awnings (tents), only sunblinds, on these spots.

All forms of fire with an open flame are prohibited in the camping area (eg fire basket and fire pits). Barbeque with charcoal / briquettes is allowed. If you want to use firewood, please use our arranged BBQ spots.