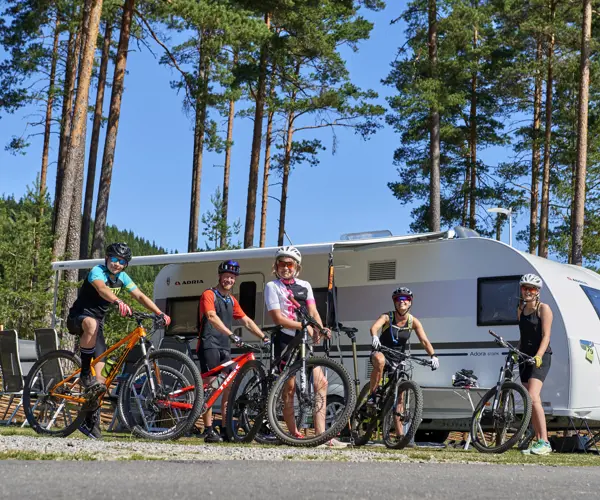 Camping site
Year-round open 4-star campsite located at the foot of the mountain. Restaurant, several playgrounds, barbecue areas, beach and a full range of activities are all close to the camp site.
4-star camping site, open all year round
Tha campsite has 84 spots with electrical outlets and cable TV.
We have different types of spots:
* Spot with electricity 10m (deep) x 10m (wide)
* Spot with electricity 10m (deep) x 10m (wide) with water and drain
* Spot with electricity 8m (deep) x 10m (wide)
* Spot with electricity 8m (deep) x 8m (wide)
In wintertime, please note that it is not walking distance to the ski resort where the ski shop, the pick up for ski pass and the beginners area are located. To get to the ski area you take the car, approx. 5 min.
Service facility
Newly built service facility with toilet, shower, washer and dryer, drying cabinet, self-catering kitchen and sauna.
Our small service facilitety has toilets, showers, drying cabinets adn shower for dogs.
You have the possibility to exchange/store freeze packs. The kitchen in the service building has a freezer for this, or talk to the reception and they will help you.
Spots for motor home parking
During the summer (May-October) there are also 33 motorhome spots. Note that the spots by chair lift (no. 106-112) have a lot of bicycle traffic close by. Especially on days when the lift is open for lift-mounted cycling. The places at the foot of Norrbacken have a more quiet location (see map below).
The motorhome spots are only for motorhomes due to safety apects, as the pitches are more narrow than the spots on the campsite.
Exception is a car with a roof tent, car + roof tent can be a maximum of 3m wide.

It is not allowed to use awnings (tents), only sunblinds, on these spots.

-------------------------------------------
Tent spots - NEW
During the summer months, there will be some tent spots excluding electricity next to our heating cabin by Dalbacken. The spots are 6m deep and 8m wide. Tents on these spots may be a maximum of 3m x 5m in size. There is parking near the sites.
--------------------------------------------
Good to know before arrival
Here we have collected some practical information that you may find useful when you have booked and are about to come here to us. By the way, welcome!
Check-in
You have access to the campsites from 13.00 on the day of arrival.
Check-in after reception has closed
If you know you will arrive late, contact the reception in advance. We can then put your key in our key box and you will then need a code for that box.
If you have not contacted us, there is an emergency phone just outside the entrance doors to the reception where you can reach our security company Securitas to get the code.
Check out
Check-out must be done no later than 12.00 on the day of departure.
Important information about safety and electricity
Please remember to keep recommended safety distances: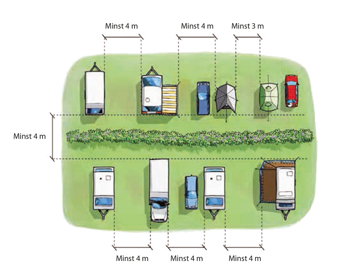 Electricty:
Our electricity outlets provide 16 ampere and 230 volts. It is not possible to connect a standard electric coed with standard socket to these outlets. It is compatible with danger of life and is forbidden at Isaberg camping. 


The cable must not exceed 25 meters, extension cords are not allowed. 


The cable is not allowed to be rolled up on a cable winder. 


The cable must be earthed and have 2.5 mm2 conductors


EU contact for connection (see picture below)


Ensure that the contact is pushed all the way to the bottom of the socket. 


Ensure that your equipment is approved for outdoor use (power strips are NOT allowed)


Please note that it is your responsibility to make sure that your equipment is approved!

On all new electricity outlets there is a lockable pin by the socket, so that you can lock your cable. 
To use the pin you need a padlock where the locking bolt is max 5mm. Please bring this if you want to use it. 
Approved EU contact: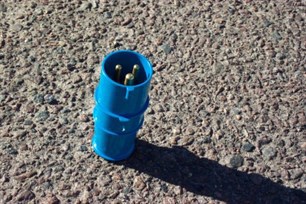 Power strips NOT allowed: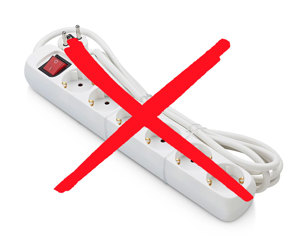 All forms of fire with an open flame are prohibited in the camping area (eg fire basket and fire pits). Barbeque with charcoal / briquettes is allowed. If you want to use firewood, please use our arranged BBQ spots.