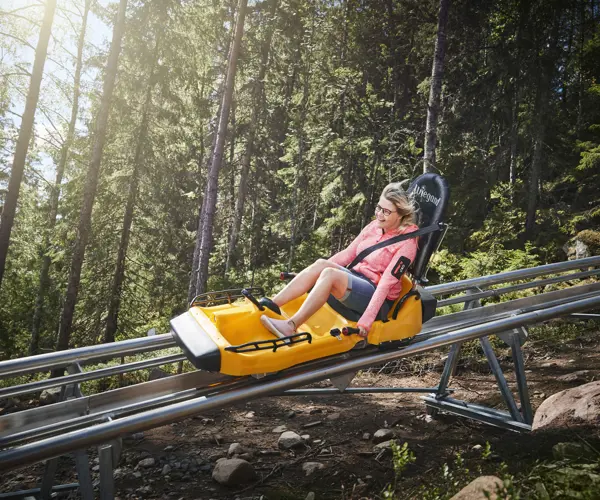 Rodel Opening hours & Prices
The toboggan run is open all year round on most days during both the summer and winter high seasons. In the intermediate periods, the toboggan run is open during weekends and school holidays.

The track may close at short notice due to thunder, storm etc.
Opening hours

 
Week 22

  Friday 10:00-18:00
  Saturday 10:00-18:00
  Sunday 10:00-18:00

Week 23
  Monday 10:00-18:00
  Tuesday 10:00-16:00
  Friday 10:00-18:00
  Saturday 10:00-18:00
  Sunday 10:00-16:00

Week 24

  Monday-Thursday 13:00-18:00
  Friday 10:00-18:00
  Saturday 10:00-18:00
  Sunday 10:00-16:00

Week 25
  Monday-Thursday 13:00-18:00
  Friday 10:00-16:00
  Saturday 10:00-18:00
  Sunday 10:00-16:00
Week 26-32
  Daily 10:00-18:00
Week 33
  Monday-Friday 13:00-17:00
  Saturday 10:00-18:00
  Sunday 10:00-16:00
Week 34
  Monday-Thursday 13:00-17:00
  Friday 10:00-18:00
  Saturday 10:00-18:00
  Sunday 10:00-16:00
Week 35-39
  Saturday 10:00-18:00
  Sunday 10:00:16:00
Week 40-41
  Saturday 10:00-17:00
  Sunday 10:00-14:30
Week 42 (Danish holiday)
  Monday-Thursday 13:00-16:00
  Friday 13:00-16:00
  Saturday 10:00-17:00
  Sunday 10:00-14:30
Week 43
  Saturday 11:00-19:00
  Sunday 11:00-19:00
Week 44 (Swedish holiday)

  Monday-Thursday 11:00-19:00
  Friday 11:00-19:00
  Saturday 11:00-19:00
  Sunday 10:00-15:00

 
 
| | | | |
| --- | --- | --- | --- |
| Ticket prices 2023 |   |   |   |
|   Ticket prices |   1 ride ticket |   5 rides ticket |   10 rides ticket |
|   Children 3-7 years |   55 SEK |   250 SEK |   495 SEK |
|   Youth 8-14 years |   75 SEK |   340 SEK |   675 SEK |
|   Adult from 15 years |   95 SEK |   430 SEK |   855 SEK |