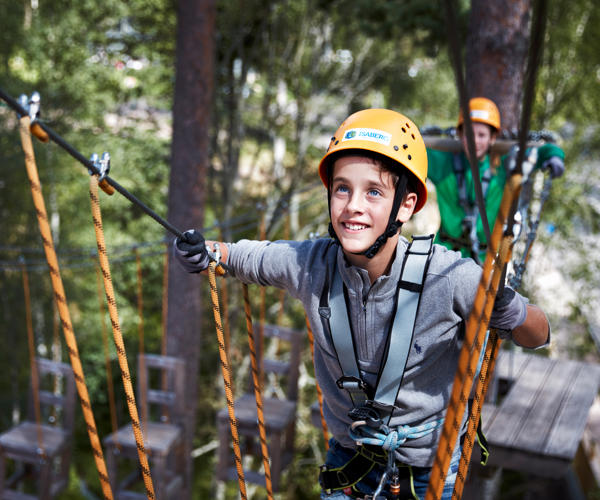 Tree Top Adventure
Our Tree Top Adventure is as exciting and challeging as you would like to make it - a fun activity for the whole family... or a tough challenge which will test your limits! And so much fun!
The Tree Top Adventure is a fun combination of play, climbing and adventure where everyone can find an inspiring challenge to overcome. We promise you that you are capable to complete more than you think and that your confidence will be given a real boost, all while getting a fun and unforgettable experience to carry for life!
Climb between platforms on different levels on a variety of obstacles such as tightropes, climbing nets, rope bridges, big leaps and zip-lines. This adventure will offer you everything from simple obstacles to truly breath-taking physical and mental trials on a height of up to 16 metres above the ground. A total of 68 obstacles spread over 7 courses.
Green (3 courses)
Easy and fun-, kids- and warming up course. Height: 4-6 metres. This is a good place to start, test the gear and get warmed up for the two other courses. Easy climbing and challenges that do not demand too much of your strength.
Blue (3 courses)
Moderate course. Height 8-15 metres. Here you will feel more pulse due to the height. also higher up. A course with a lot of ziplines. Includes a 117 metre long zipline.
Red
Technical course. Here you need both strength and courage - a tough challenge. But the harder it gets the more happy you will be afterwards when you have successfully past the test. Height 7-10 metres.
Black
Difficult course. Needs strength, courage and balance. From 12 year old and up. Height up to metres
Be on time, all participants must be in place no later than 15 minutes before the start time begins.
Kids must always be accompanied by an adult (min 18 yrs) in the course. Maximum 2 kids per adult.


Maximum weight 120 kg


We gather at the Tree Top Adventure Meeting Point (the wooden deck opposite the Sports Center).
The safety instruction starts at the scheduled time. Before it starts the terms of participation must be signed and the payment made. Delayed participant will be charged and new start time can not be guaranteed.
Equipment should be returned to our staff immediately after your activity.
Private persons
If a customer cancels the booking later than 3 days before the activity is to take place the customer must pay for the complete cost of the ticket. The Isaberg Tree Top Adventure will invoice accordingly. The park will not open if less than 5 persons are booked in the Park. The tickets will be rebooked to another time or money returned.
The customer will be charged the complete cost of the ticket if he or she decided to cancel the activity due to bad weather. The park is open in most weathers. The responsible guide decides if the park will close due to bad weather. If the park closes due to bad weather the ticket will be rebooked to another date, without extra charge.
Groups conditons

Prebooked groups outside our regular opening hours of at least 15 persons must confirm the exact amount of participators latest 14 days ahead. The number which is booked will be invoiced to the organizer/company. 
In case of group reservation, one person in the group will arrange reservation and payment.

If the Group/Company wants to have the Park exclusively, this is possible for a total fee of 9600 SEK (payment for 30 persons).
At cancellation later than 14 days before the activity to take place the customer is invoiced 50% of the fee. If cancellation is made less than 5 workdays before the customer is bound to pay the complete fee.
The customer will be charged the complete cost of the ticket if he or she decided to cancel the activity due to bad weather. The park is open in most weathers. The responsible guide decides if the park will close due to bad weather. If the park closes due to bad weather the ticket will be rebooked to another date, without extra charge