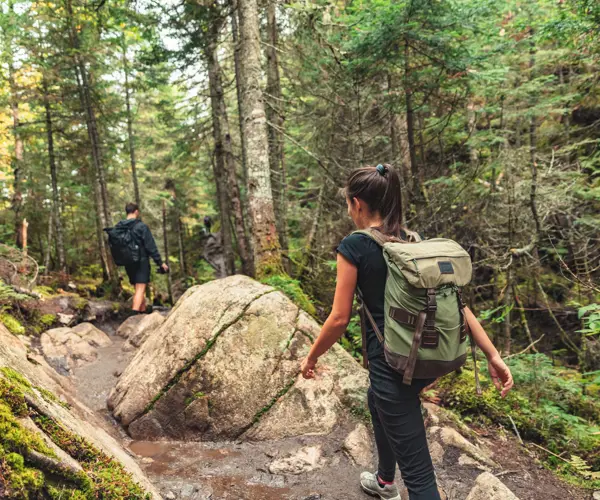 Hiking
On and around the peak of Isaberg , there are many hiking trails, short and long, easy and hard. A map with the varioius paths is available in the reception and in the SportCenter.
Our hiking map, with a dozen trails from 1.5 to 21 km, has marked places for those who want to grill, swim, exercise outdoor gym, study nature or sights - or enjoy breathtaking views of the surroundings.
Our trails
Bjärsvedsleden - 12,5 km
Hiking in hilly terrain, with steep drops and fantastic views.

Ettö golfbaneled - 6 km
Hiking in easy terrain, through different environments such as Ettö Nature Reserve, lakes and forest.

Hestraspåret - 5,5 km 
Hiking in hilly terrain. The tour passes through a mix of forest, the village of Hestra and continues back towards Isaberg.

Jättestigen - 2,8 km - The crevasse closed, trail rerouted
An adventurous and difficult hike. A tour for the well conditioned, where some climbing is necessary.

Stugbyrundan - 1,5 km
Hiking through forest on easy terrain. It's close proximity to the cottages makes this a perfect morning hike.

Sjöstigen - 2 km
Hike along the lake on easy terrain. Out on the peninsula you will find a swimming and barbeque area. Along the trail are piers if you would like to take a break and fish.

Järnbärarleden - 20 km
A moderately difficult hiking trail through various natural terrain. The Ettö Nature Reserve is located just passed Isaberg.

Read more and see map
Gislavedsleden - 100 km
Gislavedsleden is nearly 100 km long and stretches from Kinnared in the south to Isaberg north. The trail passes through two nature reserves, Fegen and Isaberg, and goes through both deciduous forest and coniferous forests, along lakes and through small villages with fields and meadows.

Read more and see map