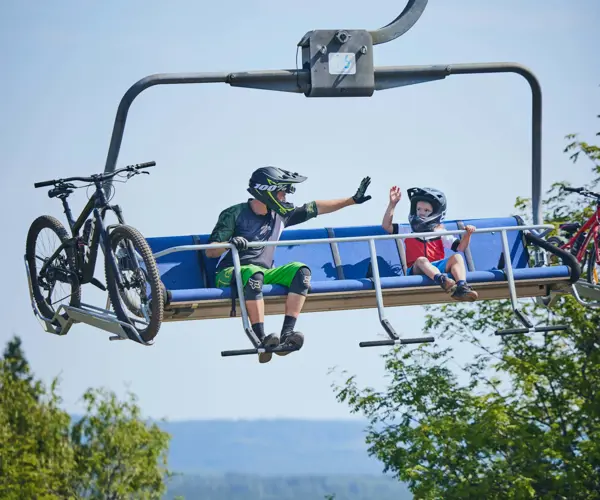 The easy way up
From the top of our mountain and out over the surrounding landscape, a network of trails winds. There is something here for everyone, regardless of wishes regarding length, track profile, drop height and requirements for technical skill - or courage! Our 6-chair lift takes you and your bike effortlessly to the top of the mountain.
Trails from Isabergstoppen
• Pelikanen - Green trail (approx 2 km) Fun for the whole family.
• Albatrossen - Blue trail (approx 2 km) Fun for the whole family.
• Jättestigen - Red Trail (approx 1,5 km) A bit more technical challenge with higher speed.
• The Nor Way - Red trail (360 m) Suits more experienced cyclists. "Messy" and technical.
• No Mercy - Black trail (620 m) Fast and steep Enduro trail.
• Piece of Cake - Black trail (290 m) Rocky and fast single track.
Always pre-book BikePass before your visit!
We sell a limited number of BikePasses per day for a better experience for you as a guest. That is why it is important that you book your BikePass online. 
We use the TeamAxess SkiPass system, which is commonly used in lift systems around Sweden and Europe. You load your BikePass (your regular SkiPass) or pre-book a brand new one online.
BikePass or TrailPass?
With a BikePass you have access to the entire mountain, the Bike Park and the trails during the period for which you purchased the BikePass.
If you don't use the lift but cycle up the mountain to our downhill trails, or cycle on other trails and in our Bike Park, only a TrailPass is required. You can purchase TrailPass at the Sport Center or the reception.
Terms & Conditions BikePass
Unused BikePass
You can cancel up to 72 hours before the validity period starts. We keep SEK 50 in cancellation fee, the remaining amount is refunded.
In case of cancellation later than 72 hours before the start of the validity period, the cost will not be returned.
Cancellation in case of illness. 
Cancellation within 72h due to illness or injury we require a medical certificate confirming the cause of cancellation. This applies to you and people in the same household.
Always double check the booking date
NOTE! Make sure that you book your BikePass on yout intended date. Also make sure that your e-mail adress is filled in correctly. 
If you change your booking of accomodation 
If your accomodation is moved to another date you can cancel your BikePass and get a refund. Please note that you will need to make a new booking for the new date.
E-mail your booking/reciept to aventyr@isaberg.com
Do you have any questions?
Send an e-mail to aventyr@isaberg.com or call +46 370339316 for more information. 
Important!
Please note that all biking at the resort takes place at your own risk. Always use a helmet. 
If you cycle downhill, we recommend a fullface helmet and back protection.
In the event of thunder, storms, etc., the lift can close at short notice.
Read what applies to lift-mounted biking here
Always bike on new trails in these three steps
1. Preride - Ride the trail at a slow pace
2. Reride - Ride through the trail under control
3. Freeride - Pick up the speed a little and have fun!