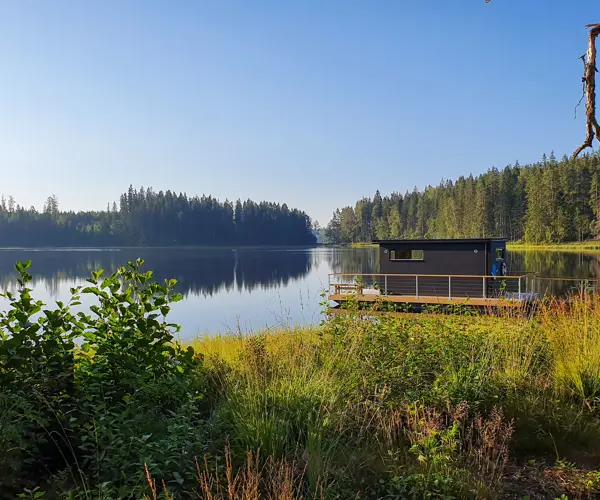 Sauna raft by the lake
Our cozy sauna raft by the lake is truly a wonderful experience. Peaceful and beautiful. You book the raft online here below.
The sauna raft is booked online in 2-hour pass, see avaliable time slots below in the calender.
There is no shower or restroom by the sauna raft. 
Bring drinks, swimwear and towels to sit on. An electrical outlet for music or mobile charging is available.
Maximum 12 persons.
You must be 18 years old to make a reservation.
The online booking closes 1 day before arrival. If you want to rent the raft the same day, please contact the reception.
The sauna costs 650 SEK for 2 hours.
Accommodation guests, please contact the reception for a discount code of 20%.
Important information for everyone who books the sauna raft
Please note:
* Please note that the sauna raft can be cancelled on short notice due to water levels in the lake.
* You can cancel up to 72 hours before the rental period starts. We keep SEK 50 in cancellation fee, the remaining amount is refunded.
In case of cancellation later than 72 hours before the start of the rental period, the cost will not be returned.
In the event of illness/injury, a medical certificate is required for reimbursement.
* Diving from the sauna raft is prohibited.
* Cleaning is performed by the guest. Sweep off all surfaces and spray with Allrent and wipe with a clean cloth. No cleaning check is done between sessions. Cleaning instructions are available in the sauna.
* Key is picked up and returned at the reception.
* When booking the latest time, talk to the reception about handing over the key.
* Cancellation can be made no later than 72 hours before arrival.
* An electrical outlet for music or charging a mobile phone is available.
* Bring drinks, swimwear and towels to sit on.
Remember to always pre-book the sauna raft well in advance before you come to us so you do not risk missing it because it is fully booked!