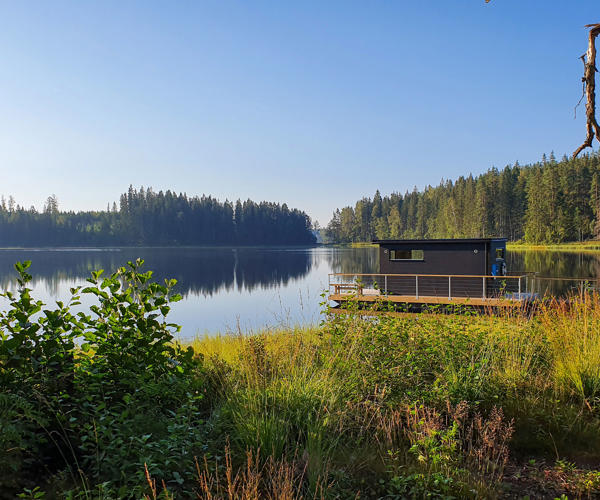 Sauna raft on the lake
Our cozy sauna raft by the lake is truly a wonderful experience. Peaceful and beautiful. You book the raft online here below. There is room for a maximum of 12 people. The sauna is heated by electric power.
Bring drinks, swimwear and towels to sit on. An electrical outlet for music or mobile charging is available.
Book a 2-hour pass online below in the calender.
Maximum 12 persons.
You must be 18 years old to make a reservation.
The online booking closes 2 days before arrival. If you want to rent the raft closer by than that, please contact the reception.
The sauna costs 625 SEK for 2 hours.
Accommodation guests, please contact the reception for a discount code of 20%.
Important information for everyone who books the sauna raft
Please note:
* Diving from the sauna raft is prohibited.
* Cleaning is performed by the guest. Sweep off all surfaces and spray with Allrent and wipe with a clean cloth. No cleaning check is done between sessions. Cleaning instructions are available in the sauna.
* Key is picked up and returned at the reception.
* When booking the latest time, talk to the reception about handing over the key.
* Cancellation can be made no later than 72 hours before arrival.
* An electrical outlet for music or charging a mobile phone is available.
* Bring drinks, swimwear and towels to sit on.
Remember to always pre-book the sauna raft well in advance before you come to us so you do not risk missing it because it is fully booked!