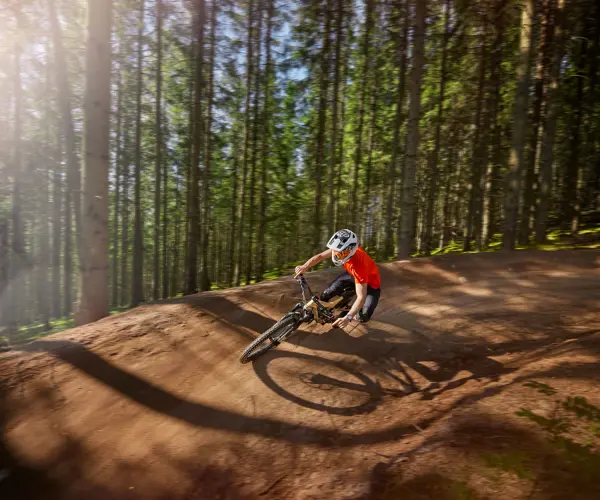 Southern Sweden's largest Bike Park
Isaberg Mountain Resort is offering an Eldorado for MTB-bikers. For the person looking for speed and excitement the race enduro down the hill is an excellent choice. And for the training addict the other direction is perfect, mountain climbing with maximum pulse.
Trails for everyone
Our more than 25 marked MTB Trails offer many nice miles on and around the moutain.
Trails are coulour coded from simple Green to challenging Black. Some are flow trails down the mountain, requiring certain levels of experience. Other are XC trails with demands for leg strength and endurance.
Lift-mounted biking
Our 6 seat Chair lift will take you to the peak in no time. Treating you to many more rides down the slopes.
Buy BikePass
Enhance your skills and enjoy the ride (even more)
Complementing the trails on and around the mountain, we've added 6 hectares of technical bike challenges.
You can ride lines with drop zones, step up's, jumps, banked curves and boulders. A far out Pump Track of 1,500 sqm offers challenges for both small and big bikers.
Tips! Parking @ Isaberg
If you bring your own bike (and don't want to rent), it's better to park on the parking up on the mountain. Go around the mountain and take the road on the back side, from Hestra village. The parking down by the main road carries av fee from April to November.
Isaberg Sports Centre
At the foot of the mountain you'll find the sports centre, the point of departure for all cycling and other exciting activities. All around the sports centre you will find the tree-top adventure, rodel tracks, adventure golf, slacklines and army obstacle courses. This is where you can book activities, buy passes and hire mountain bikes and equipment, as well as get help with spareparts and to book a technique course. Our hire bikes are the latest TREK models. Different suspensions and frame sizes are available.
All cycling is carried out at your own risk. Always wear a helmet!
For downhill cycling, we recommend full-face helmet and back protection.